Over the next three years, we won't see any drones or driverless vehicles but we're going to see a whole lot of Amazon.
By addressing the "Gorilla" in the room and showing the photo of a literal one, Patrick Wall, founder and director of Metapack, opened this year's Delivery Conference, sending an uneasy wave of giggles through the crowd.
You can't work in Retail, eRetail or logistics and not see, hear, touch, smell and, most of the time, fear, that particular primate. Wall was the first speaker but not the last to address how Bezos' hairy monster is changing the game.
Eight hours later the closing panel by John Lewis's veteran Dino Rocos was nothing less than a rallying cry, a Saint Crispin's day monologue directed to his fellow retailers, a band of brothers who must unite against Amazon or perish.
Differentiation by convenience, design, niche areas, brand, relationships and community conversation: these are some of Patrick's answers to the threat. And the same must happen in delivery. The new buzzwords are segmentation, consolidation, and collaboration. Retailers who open their spaces for other retailers: to stock, pick-up, show, summon new experiences.
Sir Ian Cheshire, Debenhams' Chairman and self-professed dinosaur, took the ball but kept it in gorilla country: Amazon currently holds 44% of the UK's eCommerce market share and drives change in a non-linear, non-predictable way, by spending a full 6% of its capital in innovation, against the average 2% of other retailers. It's an agile adversary, always strategically shifting to be closer and closer to the consumer. Sir Ian's prediction for the future: we'll see a continual rise in the importance of social media and social shopping, mobile video and speech interfaces (read: Alexa).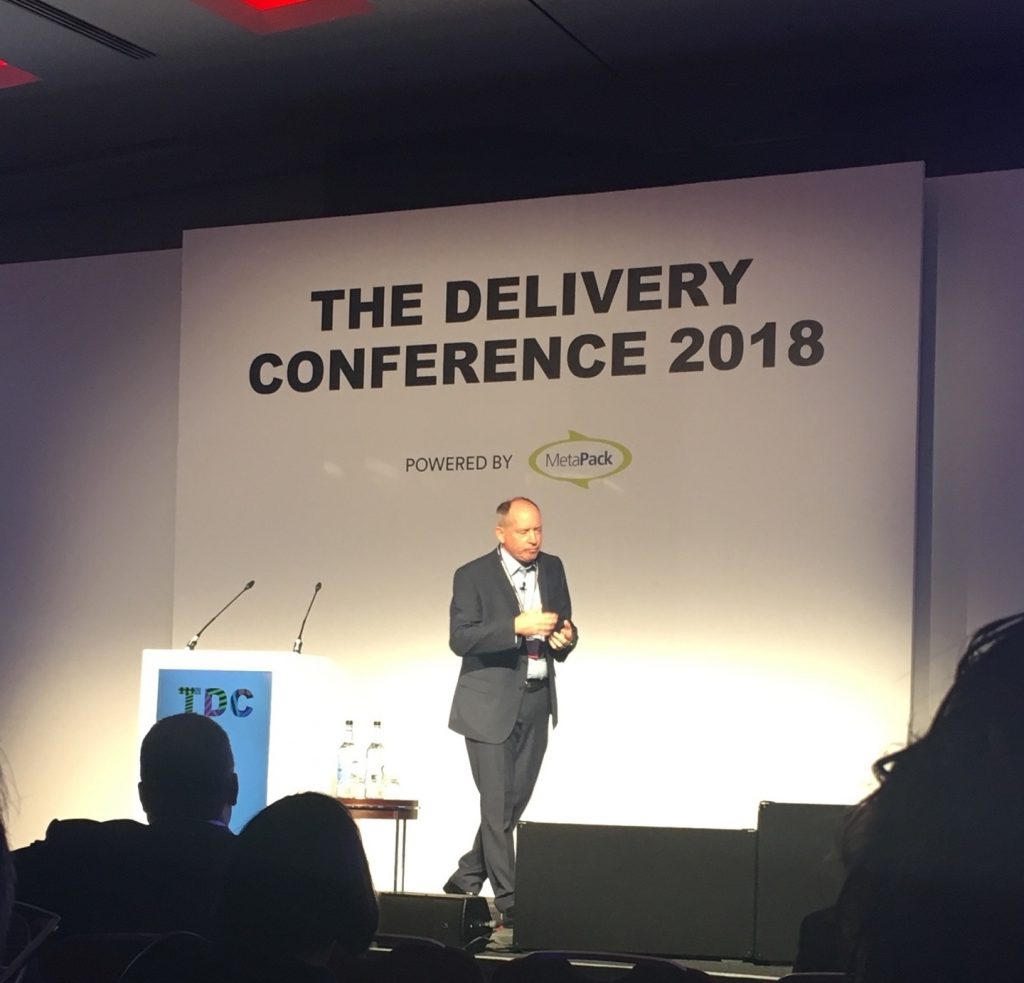 Other forecasts were made by Ludwig Hausmann, of McKinsey & Co, and there were no good news for those startups who rely on crowdsourcing and on-demand. Faster deliveries will gain importance, same-day is going to become a "big chunk" of the market, instant deliveries … not really. Only those who deal in hot food might have a chance, the others, which he defined as "one-trick ponies" (instead of unicorns) will be trampled by minimal margins. Fun fact: if you offer a £3 discount on the average delivery, almost half of the 82% of customers preferring home delivery would shift to pick-up options. I pay, you walk.
Experience, experience, experience, as in: come to my shop and live something that an online marketplace would never be able to give you, an emotion tailored to you. A mantra repeated by UPS' Sandrine Lagrost, who remarked the increasing importance of mobile commerce, which will have "the most significant growth in the future years. A whole generation will skip the laptop entirely". That's why your online shop should be mobile first and your brick'n mortar should be able to talk with smartphones, by AR, VR or any other R you care to think about. And, by the way, "returns don't have to be free": she said, mischievously.
By the time the granitical Dino Rocos took the stage the Gorilla had wrestled many hopes to the ground. "Who can compete with a pure player who doesn't need to make a profit?": he said, ominously, with images of impending Brexit, Trump, North Korea and Bitcoins scarring the screen. That's it, everyone thought: we're done. A deadly mix of Amazon, nuclear power, bad politics and wild tech will end the world. But no: there came the uber-prep talk. And what a prep-talk it was!
"All the assumptions have to change. The new steady state IS change". Because in the past there was personal shopping, in the present we have mass shopping, but the future holds a "mass personalisation". We don't beat the Gorilla at its own game, we play ours: we get back the trust of the customer, by knowing him, by inspiring him, by recognising his lifetime value, not his inelegant transaction value. And we do this together.
Wow.
All the while Bezos' agents in the room kept writing notes and planning the next move.