Why did an article published on our Blog in December 2016 suddenly became the most read of the month of March 2020?
3 parcel tracking mobile apps to trust: this is the title. + 300% views in the current month and 53% of readers interested enough to stay on the blog looking for other interesting content.
The answer is simple: the whole world is literally locked-up and forced to rely on e-commerce to receive what it needs. We will leave an Italy where e-commerce represented only 7.3% of Retail to find a very different one, much more digitized: even those who had never thought of buying online, have been or will be forced to rely on the web.
A topic already deeply felt, such as that of "track & trace", has therefore been transformed from "added value" to a fundamental value, a new backbone to the art of obtaining essential and non-essential goods. When uncertainty reigns, every certainty is worth more than gold.
Parcels tracking for years has been a tool created in a B2B perspective, to follow the journey of a parcel before it left the last warehouse directed to the recipient's office. Presenting itself as a window kindly granted by the world of logistics to that of consumers, it tended to show reassuring information (your package is traveling) but not very useful for creating a reliable estimate of arrival. The needs, of course, have changed but the logistics mentality often neglects the basic rules of a satisfactory Customer Journey, that is, of what e-commerce needs to retain and convert new customers.
It is precisely here that Milkman has been able to build its "unique selling proposition", the differentiating element and strength around which the entire User Experience gravitates: the interactive Web Tracking Page, much more information but also decisions, choices, preferences. This page not only allows you to choose the day and time slot in which to receive the package (with limitations based on the needs of individual brands) but also shows the so-called Estimated Time of Arrival (ETA). Unlike those proposed by the competition, this feature is dynamic, updated in real-time and available to everyone: even those who do not want to express a preference in terms of time slot, opting for a delivery that could take place throughout the day or several hours, can consult the WTP and see the ETA progressively shrink to show the half hour in which the package will be delivered. Always having in mind total freedom, the user can reprogram his delivery up to the last minute, optimizing not only his time but also the efficiency of the driver, which avoids an unsuccessful stop. In practice the old "tracking" becomes a new product: Track, Trace & Choose.
The openings of the WTP for the month of March have increased steadily, week after week, registering an overall increase of 9% and reaching peaks never seen before: a clear manifestation of anxiety and desire for precision by users, especially if we talk about basic necessities.
Not only essentials tough: we also reported a marked increase in requests for early deliveries in the beverage sector: + 17% MoM in February and a further increase of 8 percentage points in the first two weeks of March.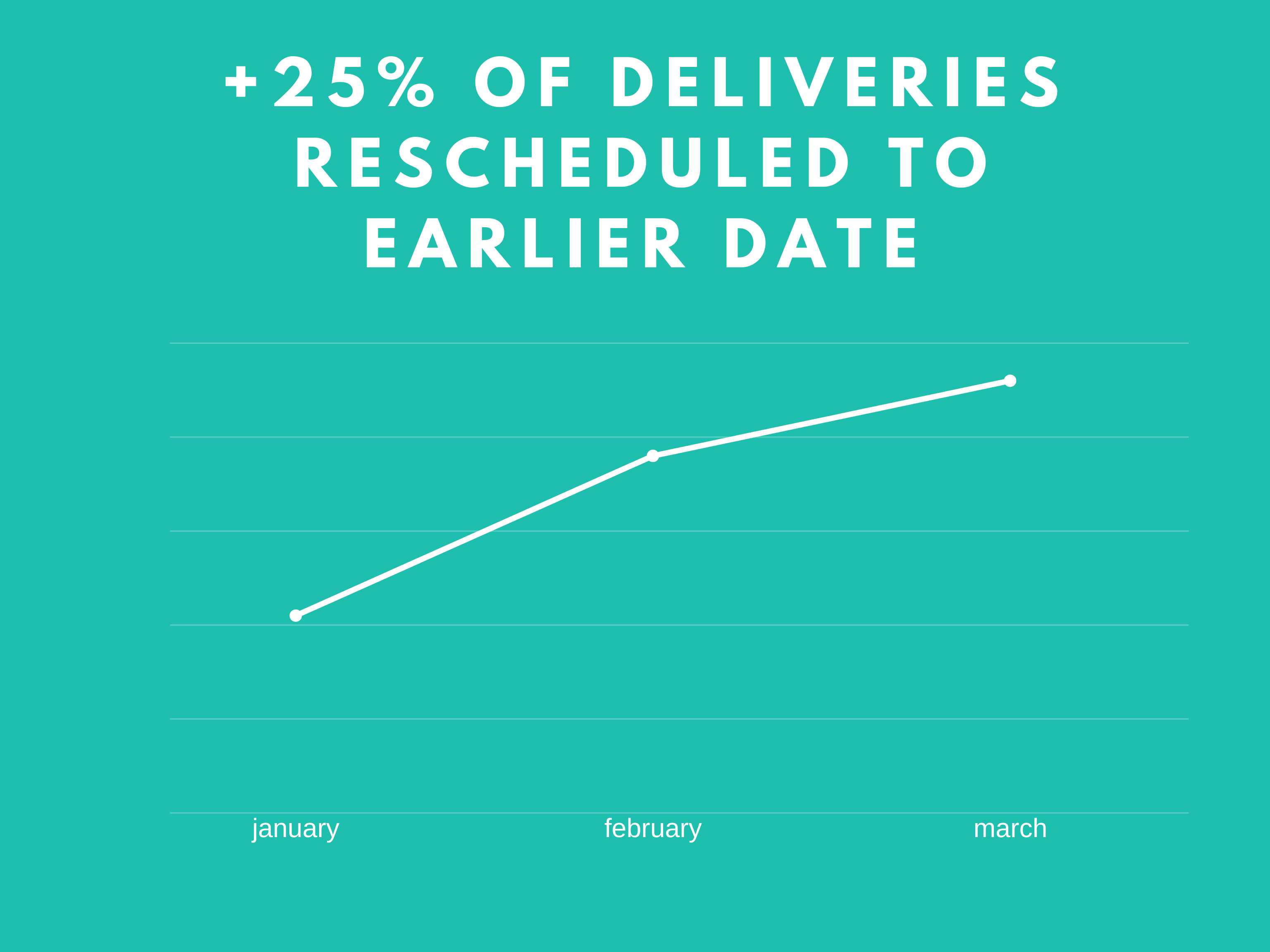 By adding interactivity to a an already very granular tracking page, we give access to a new type of service. This new product allows to meet punctuality needs, not compatible with a static page, which previously were not even contemplated. It is a different service, a tool that re-positions e-commerce through two-way communication and a multi-faceted range of delivery services, because multi-faceted is now the need of the recipients. The core of the service – enabled by the tool – lies in the benefit of personalization: a decisive advantage within a market that will emerge radically changed by the COVID emergency.